In our area of St. Cloud, MN and other nearby areas, we can experience around 48 inches of snowfall, which is roughly double the U.S. average. With so much snowfall throughout the winter months, it's important to invest in professional snow removal services that you will repeatedly benefit from throughout the winter.
Professional snow removal clears obstacles from your property, helps prevent ice and snow-related accidents and injuries, and ensures your hardscapes won't get damaged from improper equipment. Here are four reasons your property in St. Cloud, Sartell, Sauk Rapids, and the surrounding areas, needs snow removal.
---
1. Snow Removal Keeps Your Property Clear of Obstacles
Snow can be beautiful to behold but quickly turns into a nuisance when having to figure out ways to clear it from your property. Snow buildup impedes your ability to leave our home for work, store runs, and other essential errands. With busy schedules and important things to take care of, the last thing you need is an obstructed driveway that could take you hours or even days to clear by hand. Professional snow removal not only removes these obstacles form your property, but it also keeps your home completely clear throughout the entire season so you never have to worry about snow delaying your schedule.
---
2. Removing Snow Prevents Accidents & Injuries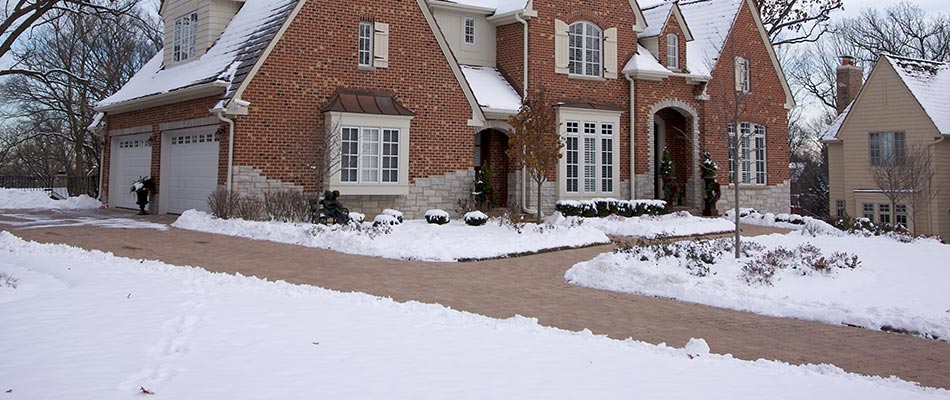 Snow and ice create a slippery surface and cause several wintertime accidents and injuries. When walking around a snow-covered property, you immediately face the risk of slipping which can cause fractures, concussions, and other serious injuries. A crew of snow removal experts will remove all snow and ice from your property and continue to come back to keep your property clear all season long. This eliminates the risk of ice- and snow-related accidents and injuries.
---
3. Professionals Use Proper Equipment for Fast, Safe Removal
When you invest in snow removal services, you get an experienced and knowledgeable crew that knows how to effectively remove snow from your property without causing any damage. Snow removal experts have the proper equipment and tools needed to safely and effectively remove snow. Using shovels to remove snow and ice yourself can scrape and damage your hardscapes. If you've invested in a custom driveway, patio, or walkway, the last thing you want is for your custom hardscape to get damaged due to improper tools and usage. With professional snow removal services, a team of experts arrives at your property ready to go with the proper tools and equipment to eliminate snow quickly, leaving your property clear and damage-free.
At Sunset Mowing, we use a combination of tractors, snowblowers, and shovels to remove snow from your driveways, sidewalks, and entryways while keeping your hardscape elements safe from damage.
---
4. Hiring a Professional Crew Saves You Time & Money
Investing in professional snow removal services drastically saves you time and money and take away the stress and burden of having to leave your home to go outside and constantly remove snow by hand. Shoveling snow from your driveway alone can be very time consuming, taking several hours, or even days, to fully clear.
A professional snow removal crew can quickly remove any accumulated snow for you so you can continue with your daily schedule. Hiring a professional company for your snow removal needs actually saves you money by eliminating the need to buy more equipment and by preventing damage to your property. To effectively remove snow without damaging anything, you either need to purchase specialized equipment or risk scraping your driveway, walkways, entryway, and any other hardscapes.
---
Get on our snow removal schedule before it's too late!
At Sunset Mowing we provide safe and prompt snow removal services for homes and businesses in St. Cloud, Sartell, Sauk Rapids, and the surrounding areas. Our professional crew comes out as soon as the snow level has reached one inch in thickness, and we often perform our work before city plows ever arrive in neighborhoods. Call us today at (320) 293-1625 for a flat rate quote and ensure your property is safe and clear all season long.